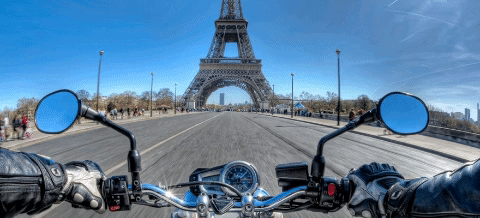 DOL DE A BONETTE:
Through the French Alps and a 9000 Ft Drop
With an elevation of 9000 ft above sea level, riding the motorcycle along Col de Bonette in the French Alps is an experience every adventurist only dreams about. The highest in all of Europe, Col de Bonetter is a 47.5 km (29 miles) twisty alpine road that has been popularized by the Tour de France.
Your starting point will be Saint-Étienne-de-Tinée. A small village with a classic French charm is home for 13000 people in Southeastern France as well as the base for a Ski Resort Auron, so if you consider yourself an inveterate skier or snowboarder, make sure to enjoy the slopes for a couple of days before or after your bike trip.
After enjoying views of Saint-Étienne-de-Tinée, go Northwest on the Col de Bonette (D64) for 24.9km (15.5 mi) to reach Cime de la Bonette. The Alpine roads are full of twisties and have no barriers, so make sure to keep your eyes on the road.

LENGTH: 47.5 km / 29 miles
SUGGESTED GEAR FOR THIS TRIP: 
For this road we want you to ride in something special. Something that sets you apart from everyone else on the road. Heroes Custom made jacket is made of high-quality lightweight genuine real leather that will protect you from wind and keep you comfortable throughout your journey. 
THE FRENCH RIVIERA 
The French Riviera is a beautiful coastline in the south of France. It covers 550 miles and acquired the nickname Cote d'Azur or Azure (Blue). It is known for its beaches, views, see-through perfect water, and a playground for the wealthy. BE ready to see some incredible French architecture and million-dollar yachts. Top 3 roads in French Riviera are The Basse Corniche, The Moyenne Corniche, and Grande Corniche. 
THE BASSE CORNICHE 
Located between Nice and Menton, the coastal Corniche (N98) takes you through all of the French Riviera. It will be one of the most amazing roads you've ever traveled. Make sure to visit the fishing port of Villefranche between Nice and Cap Ferrat, that has remarkable and most captivating views of little houses from as far as 13th century. Other extraordinary places to visit on Basse Corniche route are Saint-Jean-Cap-Ferrat, Beaulieu-Our-Mer, Èze (Bord-de-Mer), and Cap d'Ail, the Principality of Monaco, Roquebrune-Cap-Martin, and finally, Menton, the city bordering with Italian frontier.
North 98 can get pretty heavy traffic during rush hours, but don't let that change your mood. The road is lined up with 19th-century villas and gardens. So if you're stuck in traffic, look around and enjoy the view!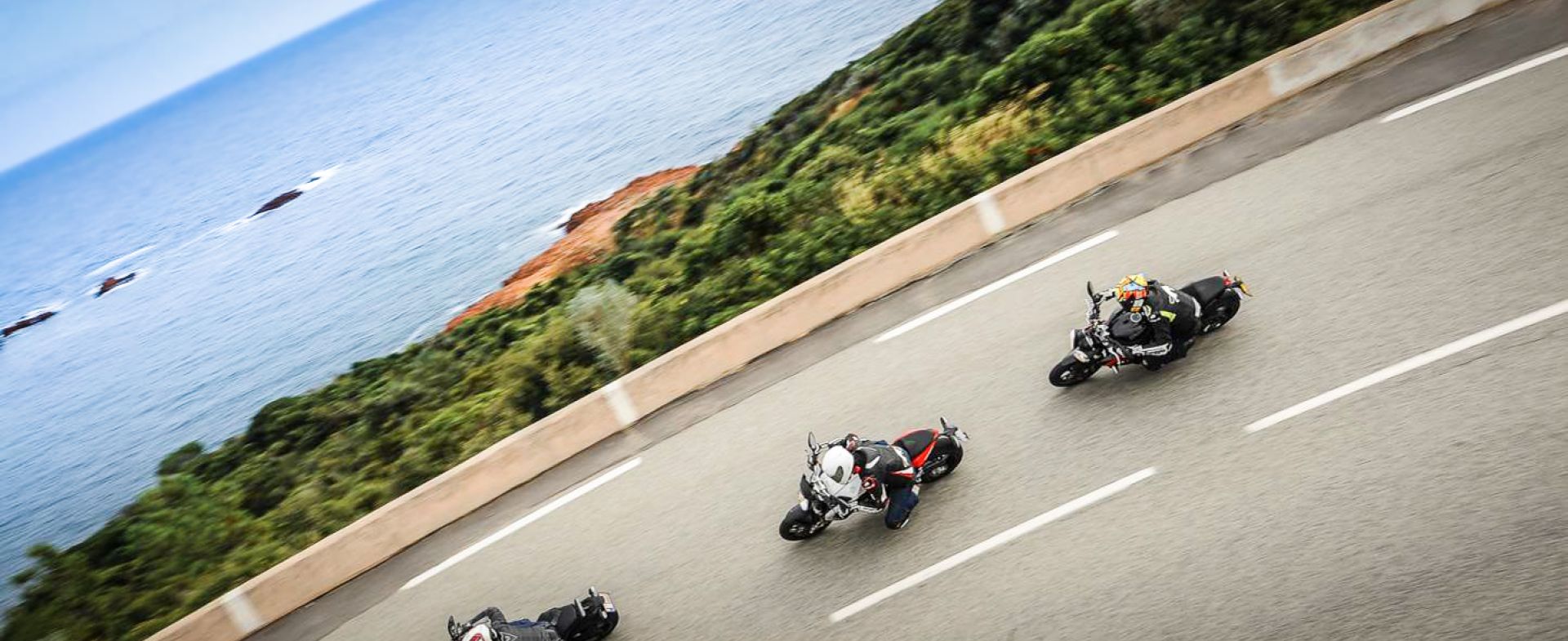 LENGTH: 29 km / 18 miles
SUGGESTED GEAR FOR THIS TRIP: 
Handmade in the Italian Alps, Experience the full HD Redwoods without the glare! Our Heroes Motors Base Zero lenses are: Flat crystal (mineral glass) Tinted to reduce brightness without distorting color. THE MOYENNE CORNICHE
Built between 1910 and 1928, The Moyenne Corniche will introduce you to French Riviera from the different angle. Although the road isn't as hair-raising as Base Corniche, it still has some amazing sightseeing that will make for a spectacular travel photo. The main sights are the medieval towns, Roquebrune Village and Èze Village, that are nestled along the top of the hill.
Parts bordering with Nice and Monaco will be more developed than Basse Corniche, which will result in more traffic. But don't let that stop you! Remember, a good road trip will always have ups and downs! 
LENGTH: 30km / 18.5 miles 
SUGGESTED GEAR FOR THIS TRIP: 
Our limited edition heroes denim jacket. perfect for a sunny coastal breezing in style and comfort.  
THE GRANDE CORNICHE 
The vistas on this dizzying road (the D2564) climb 550m above sea level. Built by Napoleon Bonaparte, it follows the ancient Roman via Julia Augusta. On one side the Mediterranean Sea meets the insatiable skyline, and on the other, it's scattered among rustic villas, pines, cactuses, and rocks.
The route is known as a part of the movie "Catch a Thief", that Alfred Hitchcock filmed in the 1950s.
The lack of people on the road makes for a smooth, twisty, stress-free ride. 
ROUTES DES CHÂTEAUX: Médoc Wine Route

  
Though it is true that the word « château » here refers above all to a winegrowing property, it is also true that many domains have their own real castle.
From the large master house to the sumptuous Renaissance building, not forgetting the « Versailles Médocain » or the oriental palace, they are everywhere ! A driving itinerary invites you to discover this architectural diversity which is unique in the world.
Jean Michel CAZES, owner of the famous Château Lynch-Bages in Pauillac has gradually bought all the houses of Bages Village to create a place dedicated to the Médoc « way of life ».
Winery visits, wine tasting, trendy brasseries, gastronomic restaurant, shops, bike rentals for your tours, cuisine schools, contemporary art exhibitions… It is a must ! First prize in the
« International Best of wine Tourism 2016 ».

LENGTH: 85 km / 53 miles  
SUGGESTED GEAR FOR THIS TRIP: 
This specific route is the longest in our list of Top 5. The Biker Messenger Bag will keep all of your necessities for such a trip. Constructed from water resistant 20oz. waxed cotton duck canvas that is coupled with an oversized, heavyweight leather flap, this Messenger Bag is comfortable to wear while keeping your gear safe and dry.